I create beautiful websites, extensions, and applications.
Movie Bingo
Tropes have never been so fun
I have a soft spot for cheesy Christmas movies — and the easier they are to predict, the better. Inspired by the over-the-top tropes that seem to appear time and time again, I built this bingo game you can play with your friends while watchig the same movie — whether across the ocean from each other, or sitting on the same couch.
Keywords: Vue, mobile-first responsive design
Let's Play
Witchy Business
Conjouring the Perfect Price for Freelance Work
Not sure what to charge for your freelance project? This side project allows you to consult a witch for help, with funny answers randomly generated via JavaScript. This was a pair programming project with a friend; I did the UX work and design implementation, and he built the crystal ball in WebGL.
Keywords: UX design, implementation, CSS(3), JavaScript, HTML(5), pair programming
Experience the Magic
Compliment Dash
A Complimentary Chrome Extension
Compliment Dash is a Chrome extension with 120 users and a 5-star rating in the Google Chrome store. This new-tab dashboard keeps a to do list, greets the user by name, and offers them a unique compliment with a humorous twist. With ten colors, seasonal themes, and the option to set a custom background image, this extension adds personality and a touch of humor to day-to-day browsing.
Keywords used: JavaScript, CSS(3), HTML(5)
Nalta Redesign
Making Platform Perfection Personal
After undergoing a merger, Nalta was ready to reimagine its digital presence under the new slogan Platform Perfection. I was invited to be a part of that design process, meeting with our CEO and marketing director to come up with a new visual identity for Nalta and implement that in the form of a new site. The redesign resulted in a 200% traffic increase to our website from August to September and new clients who found us through organic search.
Keywords: Visual storytelling, branding, UX design, implementation
Read the Case Study
Liturgical.li
A Digital Lectionary Dashboard
Liturgical.li is a Chrome extension that modernizes the Christian lectionary and serves as an organizational tool. For this extension, I transferred the complex analog system of the liturgical year, which relies on factors ranging from which day of the week certain holidays fall on to the cycles of the moon, into JavaScript. The extension also includes weather data and four possible translations for the user to choose from.
Keywords: JavaScript, CSS(3), jQuery, APIs, HTML(5)
View in Chrome Store
Email Signature Generator
An Easy Way to Create Cohesive Company Emails
This email signature generator uses reactive forms and data binding to make it easy for team members to generate their own signatures. By updating the images in the assets folder, the company's marketing team can also easily update the banner in the signature with a seasonal or promotional image.
Keywords: Angular 8, JavaScript, CSS(3), HTML(5)
Try it Out
About Me
@Work: I'm a front-end developer for an awesome, creative company in the Hague, where I bridge development with delightful design. I also serve as an Editor at A List Apart, and write freelance articles when I can. In 2019, I was chosen as one of The Next Web's 500, a list of "the Netherlands' most inspiring under 26s across all fields of digital."
@Home: I love to create, and in my spare time can usually be found with paint on my hands, flour on my jeans, or scraps of fabric all over my floor. My favorite activities are writing, sewing, and keeping active through ruing or strength training. I try to make time to read every day, and sometimes, even sleep.
Resume
Skills & Overview
My stack:
JavaScript (ES6)
Typescript
Haxe
Angular
Vue
React

(currently learning)

CSS(3)
SASS/SCSS
HTML(5)
jQuery
Bootstrap
SVG & Animations
Wordpress
My toolbox:
Adobe Photoshop
Adobe XD
Figma
Adobe Illustrator
Adobe InDesign
Adobe Lightroom
Agile / Scrum
VS Code
Bash Command Line
Atlassian / Jira
Github
Agile / Scrum
Several cups of tea a day
Experience
Creative Developer
Binkies3D
January 2020 - Present
Designed and built the first version of Bakery, an internal web application for our content team to create 3D models. The application loads models from the company's platform and allows users to create and adjust materials, material properties, and textures for our 3D product models.
Build integrations of our 3D content for clients, adjusting the layout and design of the 3D interface to reflect client wishes and brand guidelines.
Create user interface mockups and concept proposals for new ideas in our Product Development process. Guide the concept through multiple stages of feedback and refinement. Communicate with the rest of the development team about translating the design into an internal minimum viable product, and work on the building of that implementation.
Manage communication with and onboarding of new clients. Prepare client intake, build integrations ready for client demo, and adjust the integrations based on client feedback.
Design custom icons, animated SVGs, and buttons for our integrations to reflect clients' branding.
Create product mockups for proposals for external clients.
Editor
A List Apart
January 2019 - Present
Work with writers to edit their articles for publication at A List Apart, a large online magazine that publishes articles about web design and development.
Help authors organize their thoughts, streamline arguments, improve their writing, and form a stronger thesis for their articles.
Validate the appropriateness of submissions for publications based on the quality of writing, originality of the premise, strength of argument, and suitability for our audience.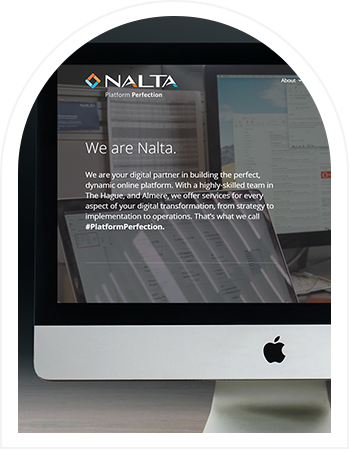 Front-end Developer
Nalta
January 2019 - December 2019
Fully redesigned and rebranded Nalta's digital presence after its merger with Webbeat. Designed the new logo, business cards, email signatures, and social media imagery, and built the new site. The redesign resulted in a 200% traffic increase to our website from August to September and new clients who found us through organic search.
Built a custom in-house email signature generator that allows an admin to update seasonal banners and disclaimers. This saved the company a week's worth of effort in manually creating signatures for each employee.
Redesigned and implemented a new user interface for digitalAngel, a web app that couples with smart mattresses and wheelchairs to keep nurses up-to-date on their patients' vital signs and positioning.
Implemented new features for digitalAngel that include better alarm monitoring, smoother user and patient creation, and the ability to modify user settings such as language.
Translated design teams' wireframes and mockups into responsive, interactive views and pages for various clients, including a major food company.
Freelance Web Developer and Designer
Sara Laughed
Dec 2017 - Dec 2018
Built and released Compliment Dash, a Chrome extension in the Google Chrome Store with a five-star rating and 115+ users. This new-tab dashboard keeps a to do list, greets the user by name, and offers them a unique compliment with a humorous twist.
Created Liturgicalli, a Chrome extension that modernizes the Christian lectionary and serves as an organizational tool. Transferred the complex analog system of the liturgical year, which relies on factors ranging from which day of the week certain holidays fall on to the cycles of the moon, into JavaScript. The extension also includes weather data and four possible translations for the user to choose from.
Built a custom WordPress site for a politician running for city council, and scaled this to a multi-site that offered language support for her Spanish-speaking constituents.
Designed the logo and website, and built the WordPress site, for an educational website equipping parents and teachers to teach history through shadow puppetry.
Blogger
Sara Laughed
Feb 2012 - Nov 2018
Built the blog Sara Laughed (saralaughed.com) to a readership of 1.6 million readers per year and a social following of 35,000. Wrote weekly posts covering a range of topics from crafts to college advice, some of which reached up to 600,000 hits and 100,000 shares. Some posts were syndicated with HerCampus. Partnered with brands including Amazon, Starbucks, and Tidal.
Ran College Compass (collegecompass.co), the college offshoot of the Sara Laughed blog, which featured college help articles, columns, and downloadable workbooks to help students perform better academically. From 2016 to 2017, the site got between 10,000 and 25,000 readers per month. While the site is still online, I no longer update the contents.
Ran Seasons Illustrated, a creative devotional community of 6,000 members, from 2015 to 2017. Self-published 7 Seasons Illustrated studies, including two Amazon best-sellers.
Design Fellow
The Tempest
Dec 2017 - May 2018
Created the design elements for the website's YouTube channel redesign.
Made headers and illustrations for articles to be published on the Tempest.
Design Intern
Maya Elious / BRNDWCH
Jun - Nov 2017
Created all social media and YouTube graphics related to Maya Elious' mentorship program for female entrepreneurs.
Managed community interaction, discussion, and moderation in the private online community for Maya Elious' mentorship program.
Awards
Shortlisted for the T500
The Next Web
2019
In 2019, I was thrilled to be included in The Next Web's 2019 list of the Netherlands' '500 most inspiring under-26's in digital'.
Learn more >
Education
B.A. Religion, Magna Cum Laude
Wellesley College
2012-2016
Visiting Student
Mansfield College, Oxford University
2014-2015
Coding Certificates:
Accessibility Certification (Deque University, in progress)
Front-End Development (Treehouse, Jun 2016)
Web Development (Treehouse, Mar 2016)
Beginning JavaScript (Treehouse, Jan 2016)
Learn HTML (Treehouse, Dec 2016)
Contact
Thanks so much for your interest in my work! If you're interested in connecting with me, the best place to do that is Twitter at @SaraLaughed, or LinkedIn for networking.